No B.S. Skincare is a quirky startup brand that's all about beauty without the bad stuff. Unlike many competitors in the beauty industry, they pride themselves on containing no harmful chemicals; while the FDA bans only 11 toxic ingredients, No B.S. has banned 1,500. Their products are plant based and cruelty free with formulas that are tested and proven to say what they'll do and do what they say. This brand was in the process of redefining itself amidst new product launches and pushing sales, so I lent my skills to their E-commerce and marketing efforts. This involved the creation of ads and organic content for social media, assets for the site and Amazon store, landing pages, banners, newsletters and direct mailers. We focused on toning down the crude language and refining graphic elements in our messaging to make the products look clean while still retaining their boldness. This new direction is regularly being fine-tuned and gradually translated across the brand as it continues to grow.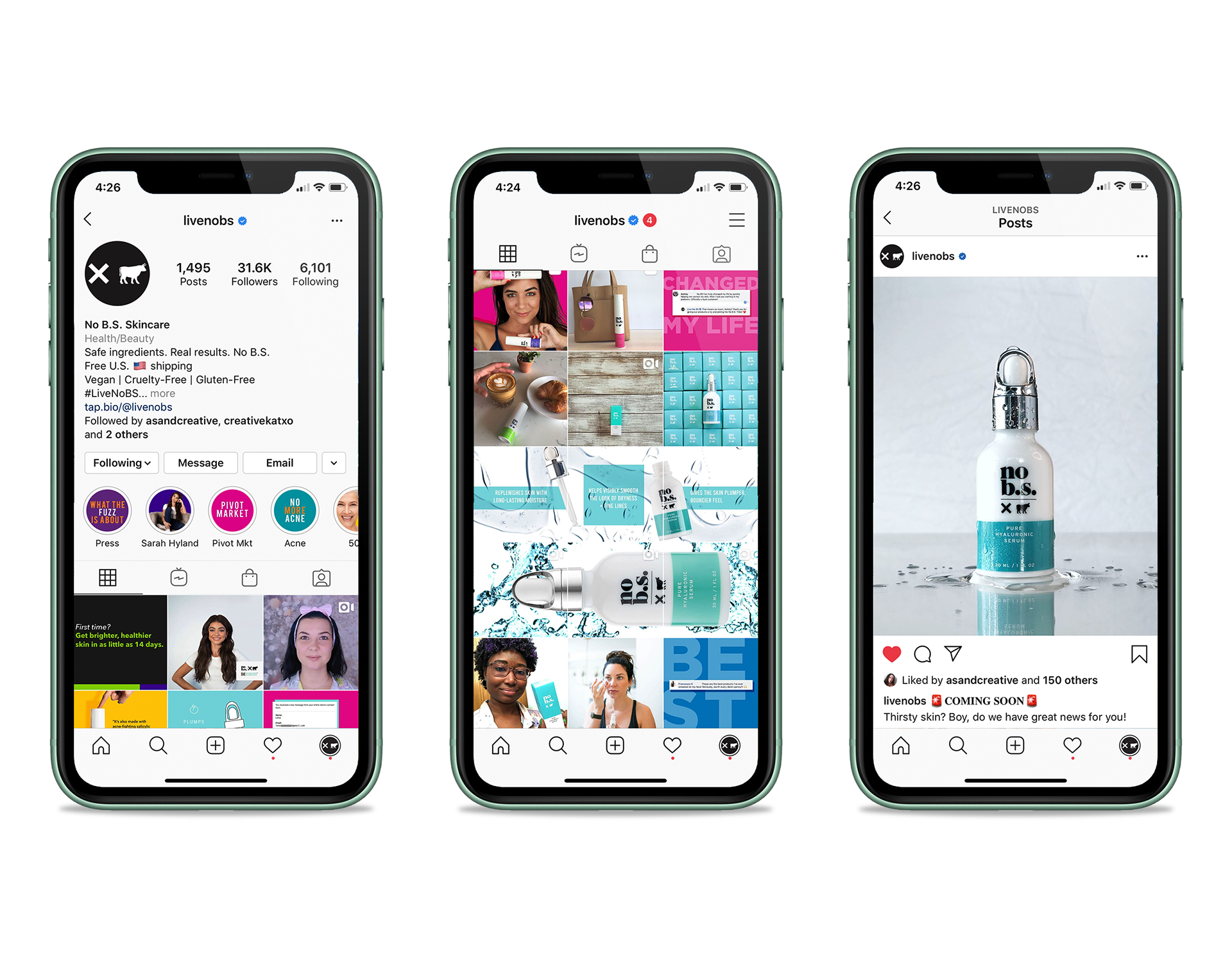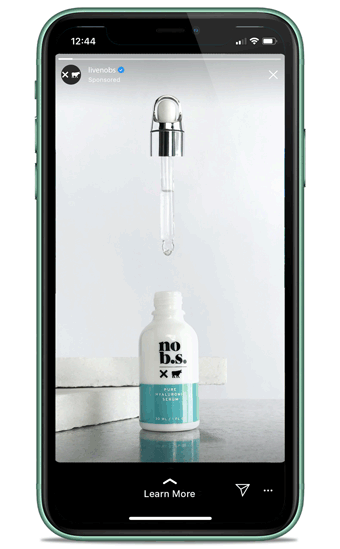 The Pure Hyaluronic Serum was the last product added to the No B.S. lineup for 2019. This oil-free serum not only uses Hyaluronic Acid to pack moisture into the skin, but it also draws moisture from the air, assisting in plumping fine lines and added suppleness with continual use. I helped create and curate fun, snackable content for the pre-launch of this product, building anticipation two weeks prior before it finally did.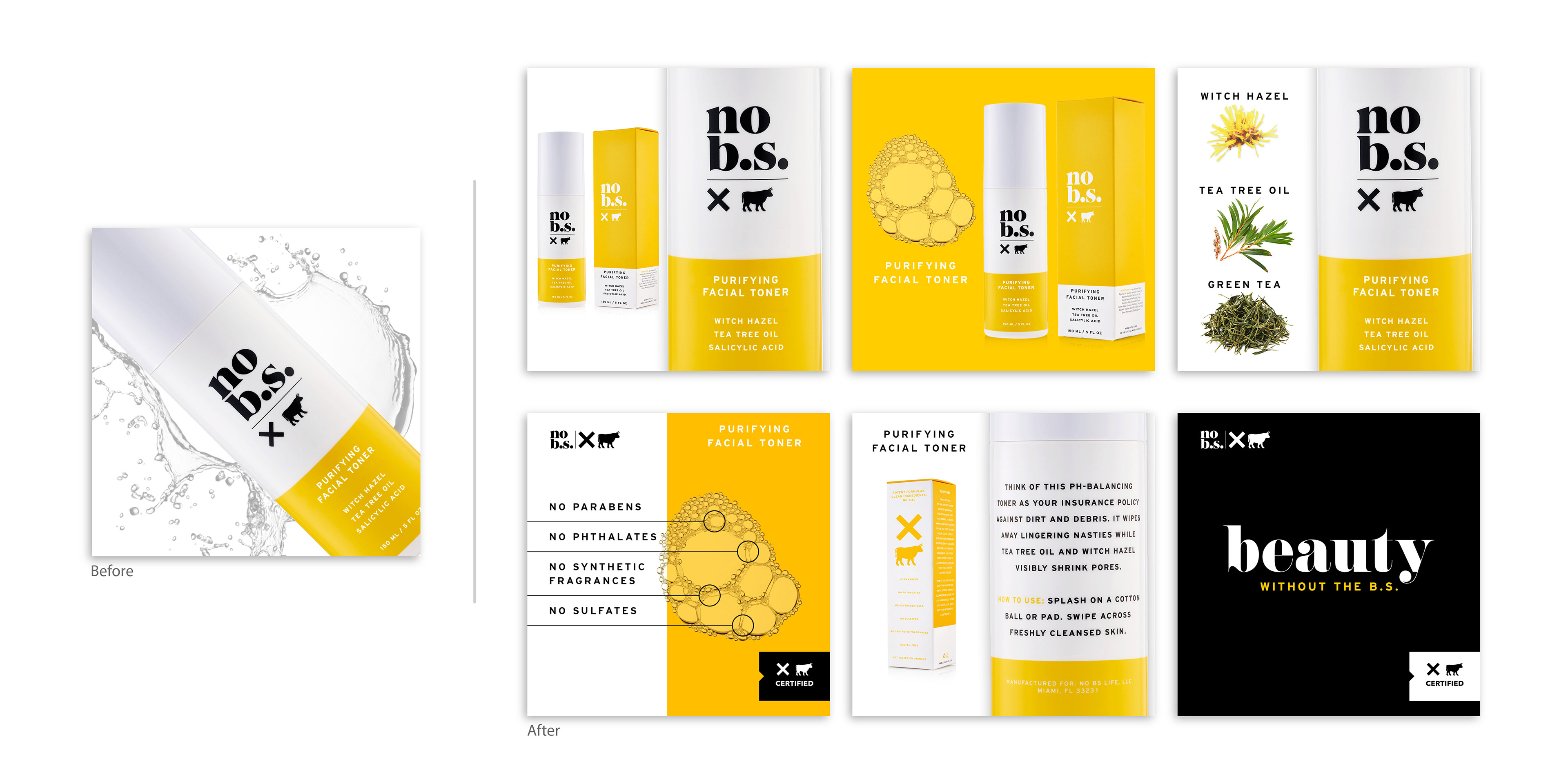 The Amazon marketplace has a specific format in place for product listings. When a user views a product page, all products are generally clean on a white background. The exception to this rule is usually the product alongside the package, the product in the package, or the product with a graphic element, ei. a water splash, a beauty tool or a fruit. Following this format makes it difficult for one brand to stand out from another, so we explored an image study that would help us do that. This was initially done before the brand attempted to establish its own guidelines, hence why the before image looks random and out of place. When a guideline was later in development, we revisited this study with the intent to emphasize the component, its ingredients and its values props with a clear direction and defined identity. We then translated this across the entire lineup.

At the end of 2019, the Caffeine Eye Cream and Retinol Night Cream both received a
Beauty Innovation Industry Award
. To share this exciting achievement, we created animated ads and banners for our site and social media channels. Click below to view all winners of 2019.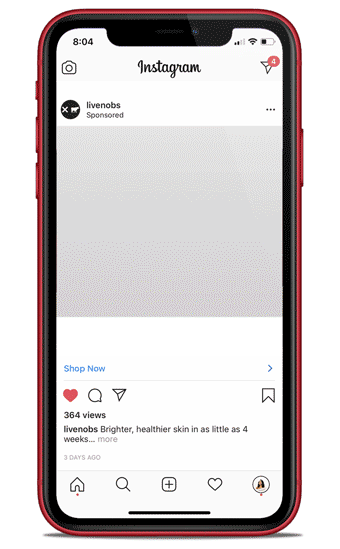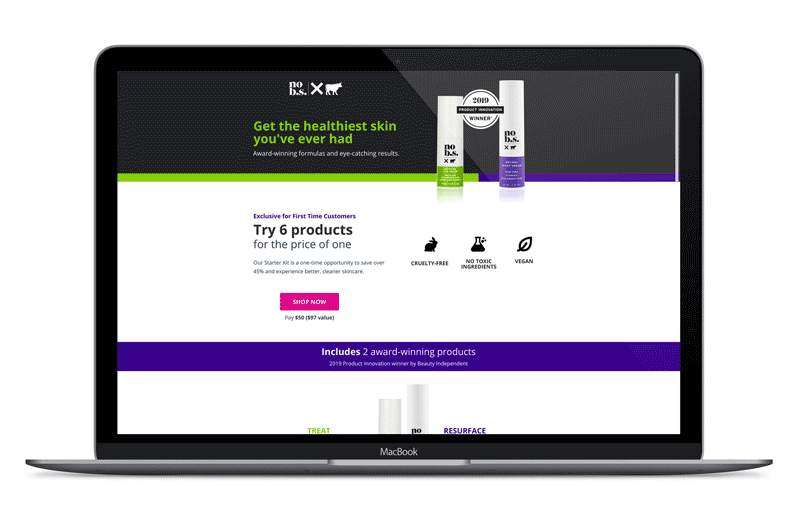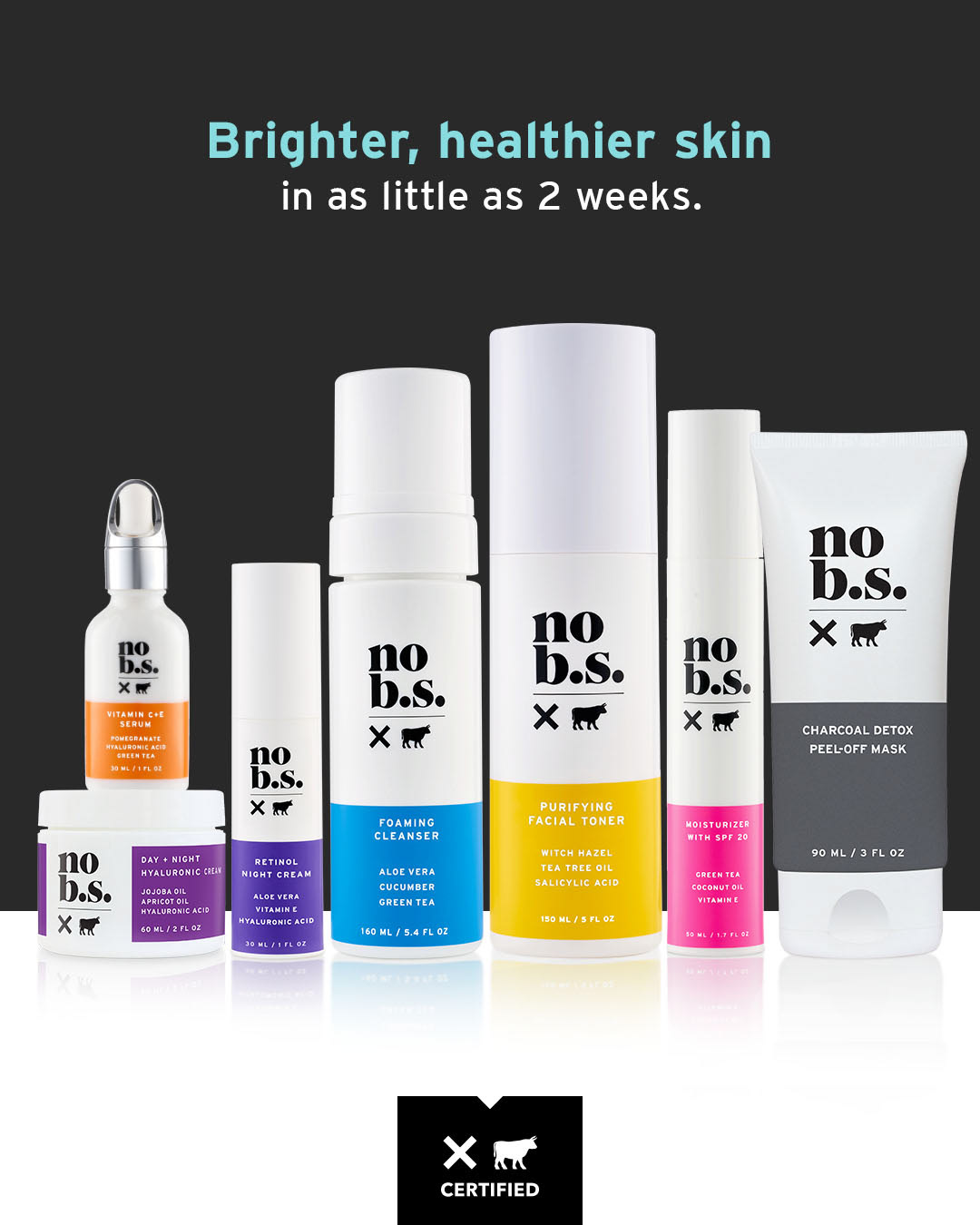 For the start of 2020, we set on increasing the number of customers and transactions while also improving repurchase rates. The solution was the Discovery Kits. There are several kits, each defined for a specific routine and only offered exclusively to new customers. Since these product pages are hidden, potential customers could only access these offers via social media ads or email. The idea was to incentivize customers with a means to try core products at a significantly reduced price, or try two award winning products for the price of one. Once purchased, we followed up with specific promotions when they returned to the site. Out of 4 kits, I helped execute assets for the
Award Winning Best Seller
and
Full Routine
Kits.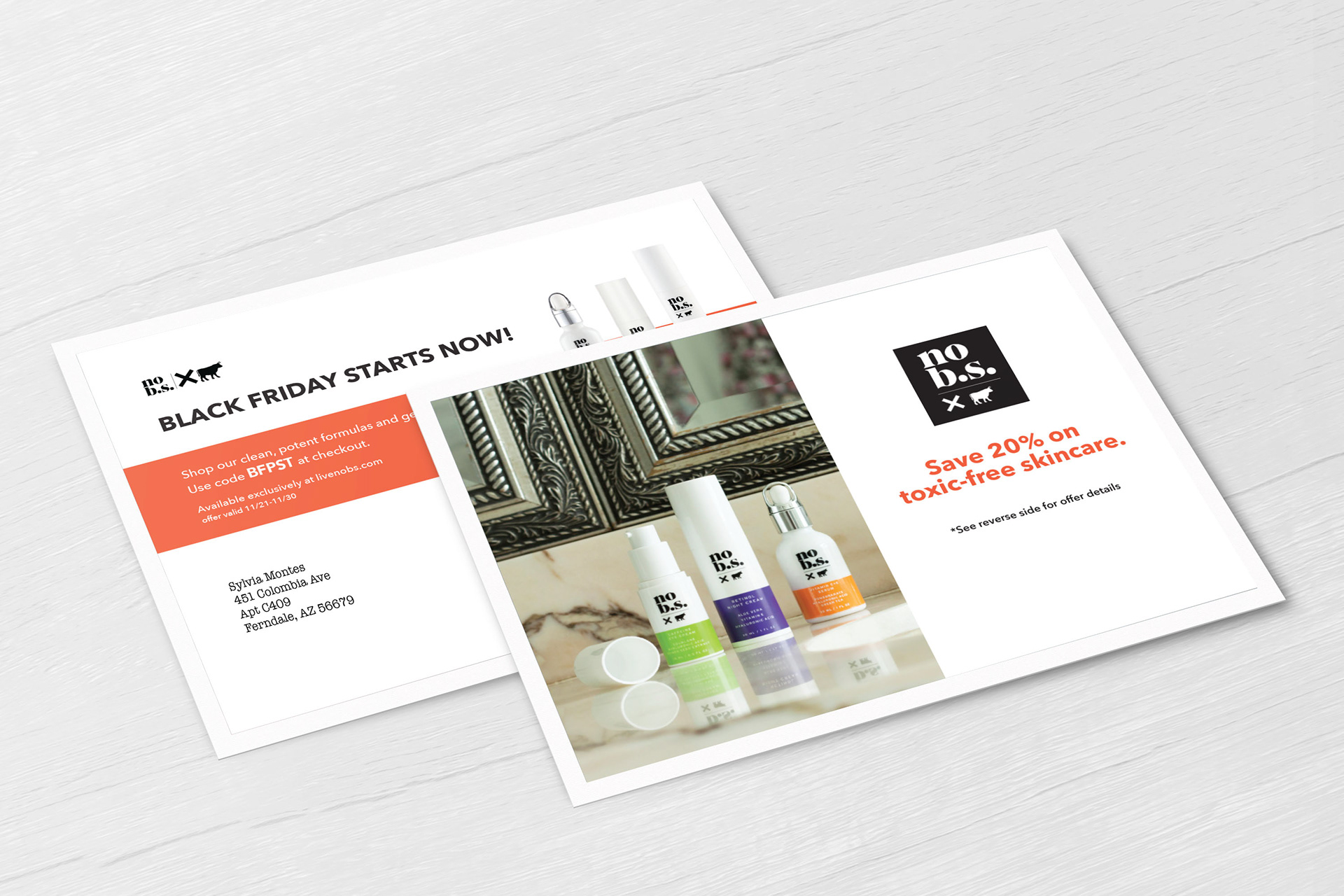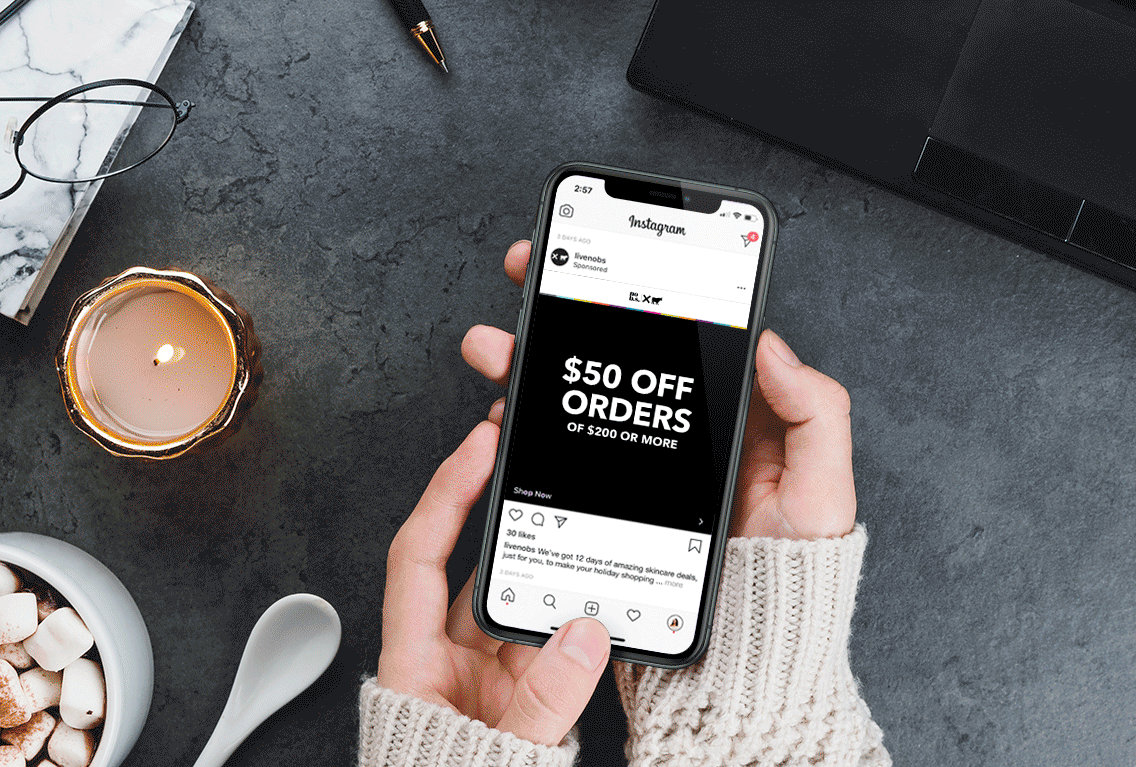 The holidays is when brands put considerable effort into holiday deals. For Black Friday, we sent out direct mailers relative to customers who shop via the No B.S. website or Amazon. Then in December,
12 Days of Sales
was
 where shoppers could access a different deal during that time frame.